The Pope arrived in Egypt on Friday, kicking off a two-day trip designed to forge Muslim-Christian brotherhood and show solidarity with the country's persecuted Coptic Christian minority. The Pope's visit comes two weeks after the Palm Sunday bombing of two Coptic churches that left at least 45 people dead. He addressed a familiar theme: "the roots of violent extremism." CNN Reported
to watch video click on the blue links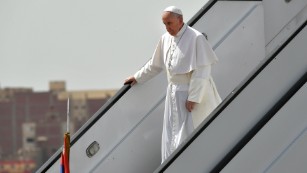 According to US Media, The Pope's visit is not an easy one. He will have a challenging task mostly during his speech because "Christians will expect him to clearly condemn Islamic extremism while Muslims will expect him to avoid indicting Islam itself."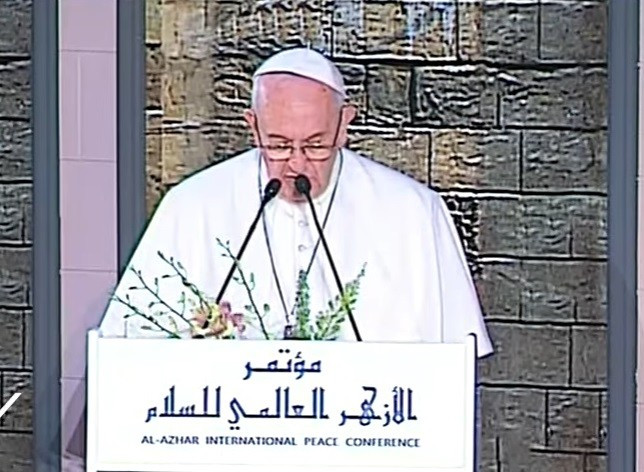 It is to be noted that the security was on high alert across Cairo as Pope Francis arrived for meetings with Egyptian President el-Sissi and the leader of Egypt's Coptic Christians.
The Holy Father met with Sheikh Ahmed el-Tayeb and became the first pontiff to visit the institution since Pope John Paul II in 2000.  When he greeted the Grand Imam, the Pope called him "my brother," and sat side by side at the closing of the International Conference for Peace organized by Al-Azhar, Aleteia Catholic Network reported and added that the Pope told Grand Imam: "We must unmask the violence that masquerades as sanctity."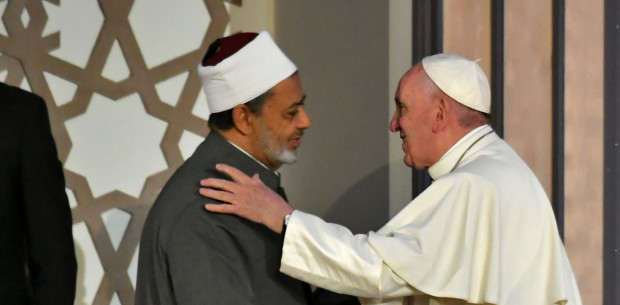 Afterwards, The Pope met the Head of the Coptic Church in Egypt to sort out many differences between both churches. The meeting was described as successful and emotional.
On his last day of his brief visit Pope Francis celebrated a Mass in Cairo Saturday, in the Air Defense Stadium. According to Reuters and Vatican officials 15,000 people gathered, among them Coptic and Anglican bishops to celebrate the Mass with the Holy Father.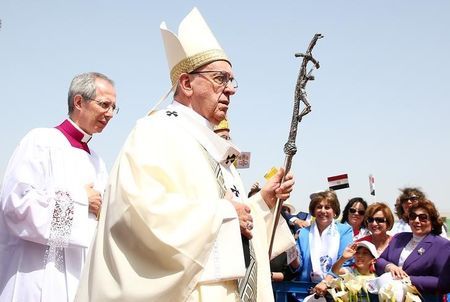 The Pope urged Muslim leaders to unite against religious violence, "as Islamic militants threaten to rid the Middle East of its ancient Christian communities. At the end of his Mass for the Catholic community, Francis blessed Egypt as one of the earliest nations to embrace Christianity and repeated his call for tolerance.
Hala Hayek