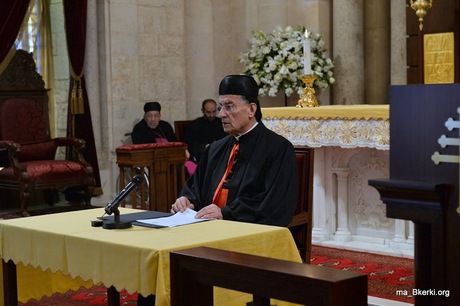 Maronite Patriarch Beshara al-Rahi urged the political authority in Lebanon to stop obstructing the political process in the country for their own personal gains, as he assured that the Christian community does not stand in a weak position.
"The political authority can't keep on dividing (state) posts and obstructing everything under the pretext of achieving consensus, while disregarding the damage it inflicts on public institutions," said al-Rahi during the Easter mass at Bkirki.
He urged the political class to put efforts in "understanding the national pact and coexistence" instead of focusing on "narrow interests and seeking personal gains."
The Patriarch stressed saying that the Christians are not weak, "they are a valuable cultural civilization and an indispensable necessity."
He called on the international community to stop countries providing cover, aid and weapons to terrorist organizations.
The Patriarch called on Muslims to adopt "joint positions and actual initiative to reserve the positive image of Islam amid the repeated terror attacks against Christians."
Al-Rahi condemned the "blatant and repeated persecution of Christians in Egypt."