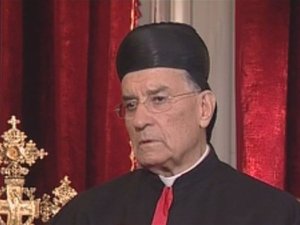 Maronite Patriarch Beshara al-Rahi warned Thursday that he will not tolerate an extension of parliament's term, as he called for an electoral law that does not "eliminate" any Lebanese component.
"We want an electoral law that preserves all components… We are against exclusion, elimination and any monopolization of power," al-Rahi said in an interview on LBCI TV.
"There won't be an electoral law if every person wants it to be tailored to fit their size," the patriarch cautioned.
Commenting on President Michel Aoun's use of his presidential powers to suspend parliament and prevent it from extending its own term for a third time in less than four years, al-Rahi voiced concerns that the political parties might fail anew to agree on a new electoral law during the one-month period ahead of parliament's next meeting.
He also rejected a new extension of parliament's term and noted that the 1960 electoral law is "still in effect."
"We would accept technical extension, even for a full year, if such a step is accompanied by a new electoral law," al-Rahi added.
He also congratulated Aoun on his constitutional move and Speaker Nabih Berri on "his responsiveness."
"We thank President Aoun for his efforts to rescue the situation in Lebanon," al-Rahi added.