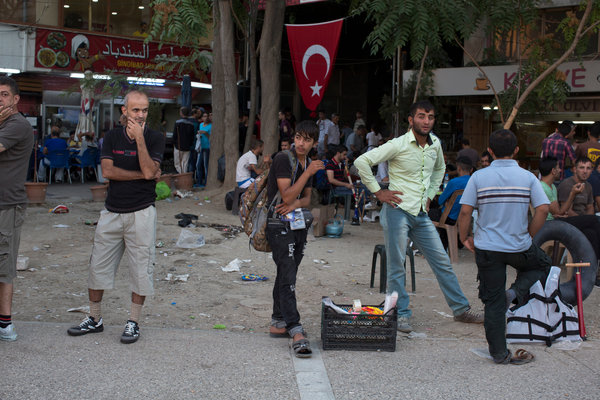 Path to Greece Closed, Economy of Smugglers and Others Suffers in Turkey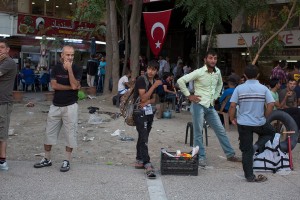 For more than a year, the Sinbad restaurant in Basmane Square was packed every day with hundreds of migrants from Syria anxiously conferring with brokers to negotiate fees to reach Europe through the perilous sea crossing from Turkey to Greece.
But this week it was mostly empty. Six of its employees had been laid off and those who remained said they had taken a 50 percent pay cut.
"All our clients were Syrian and we lived off their tips," said Mohammed Hajji, 22, a waiter at the cafe. "This place used to be so packed you couldn't find a spot to put your feet. Now look …" His voice trailed off as he pointed to a row of empty tables and chairs.
Until last month, the warren of narrow streets surrounding Basmane Square made up a vibrant transit hub, part of the multimillion-dollar raft economy that arose around the business of moving hundreds of thousands of migrants into Europe. But now, days after Greece began sending migrants back to Turkey under a contentious deal with the European Union to curb the flow of migrants to Europe, the boom has turned to bust.
"Every business in this square profited from the refugees, and now they've suddenly gone," said Kadir Akinci, the manager of a taxi company in the Basmane neighborhood. "We've taken a 70 percent cut in profits. Those passengers were our livelihood."
Smugglers, once inundated with requests from desperate migrants, meandered through cafes and teahouses looking for the stray refugee. Clothing stores still displayed mannequins donning life vests and inner tubes, but sales were sparse.
Taxi drivers, who had transferred thousands of passengers to isolated departure points, hung around the square looking morose. Hotels that had been booked for months by smugglers now sat empty, and Arabic signs erected to appeal to Syrians had mostly been removed from shop windows.